Winchester 308 Deer 150g XP 20pk
$59.95
Deer Season XP combines decades of Winchester experience into the perfect choice for deer hunting ammunition. Accuracy, combined with massive bullet impact performance means that Deer Season XP is a great choice for all deer hunters. Suitable for use on Whitetail, Mule and Blacktail Deer.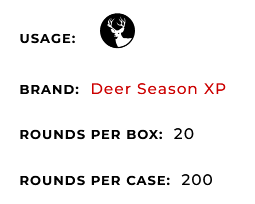 Get an alert when the product is in stock:
In stock
Description
Deer Season XP ammunition combines our extensive experience into a product engineered specifically for deer hunters.

The Extreme Point bullet features an oversized impact diameter.
A bigger impact diameter means more impact trauma, better energy transfer, and larger wound cavities for faster knockdown.
Ballistics
Normal: Metric

US: Imperial